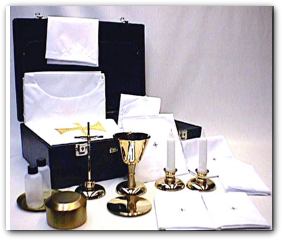 #260 Complete Traveling Mass Kit - Dignified solid wood frame, black spacious Carrying Case with dual snap locks. Soft foam embeds a full set of pictured components for safety and protection. Approximately 18" x 12" x 4 1/2" tall, it has sufficient space for a full complement of linens and a Chasuble and Alb. There is additional space for Holy Scriptures or other personal items. (Vestments may vary slightly.) 24K Gold Plate over solid cast, machined and spun brass. All hand made in the USA.
This kit is the BEST FULL SIZED VALUE AVAILABLE ANYWHERE
As pictured
As pictured without vestments
| | |
| --- | --- |
| | #5440 Communion Kit - A compact set, .999 Silver plated and lacquered for long use, this kit is designed to be fully portable and functional in an understated, yet substantial, way. |
#240 Mass Kit - This Economy Mass Kit has many of the same components as our #260, yet it is housed in a case designed for ease of travel. Sized at 12" x 9" x 5", it has room for both a full set of linens, and lightweight vestments, if desired.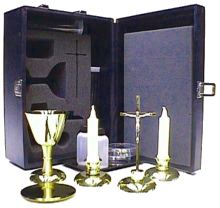 As pictured
As pictured with linens
There is **NO** better value anywhere. This Mass Kit has remained unchanged in its basics for close to 50 years and has provided full service for the money to innumerable clergy and missions around the world, and on every continent.