If you don't recognize these, you're not Catholic! We stopped keeping records when the 100,000th was shipped! The four-part Stacking Multiple Ciboria below is probably the most successful innovation ever in it's field. Originally designed to allow for maximizing Host capacity storage within the Tabernacle, it has developed its own utility. The collapsible solid cast brass and gold plated handle provides a secure platform for anyone. Don't hold it like a teacup--slide two fingers through the handle loops and cradle it as if you were holding a newly born. But, isn't that the idea?
The lids are ideal areas for memorialization, and each section's knob rests within a bottom recess of the section above. Compact, functional, attractive and easy to use.
Item
Bowl Diameter
Price:
121 300 Top
4"
121 300 Bottom
4"
121 600 Top
5"
121 600 Bottom
5"
121 1000 Top
5 3/4"
121 1000 Bottom
5 3/4"
121 1500 Top
6 1/2"
121 1500 Bottom
6 1/2"
Mirror Polished inside and outside, with satin finished lids and all 24K Gold Plate. Other Finishes are available as custom orders.

 

Please note that the capacity quoted is based on the old small size hosts, and will vary depending on how the hosts are stored and which size hosts are used.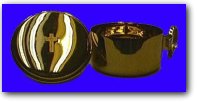 #225 24K Gold Plated Hospital Visitation Pyx with collapsible handle - 3-1/8" Diameter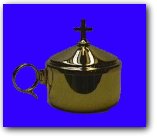 #226 24K Gold Plated Ciborium with collapsible handle- 3-1/8" Diameter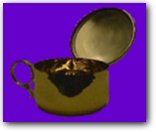 #6711 24K Gold Plated Visitational Pyx with collapsible Handle and hinged Paten Lid - 3-1/8" diameter