Solid Brass and 24K Gold layered, Hand Polished to a Mirror Bright or Satin Finish, and then coated with The Finest Lacquers Available anywhere in the World.

These are meant to last--that's why we don't use steel parts or Nickel Plate for an undercoat. Not only is that bad for the Environment if not disposed of properly, it's an attempt to substitute a Chemical Process for Quality Craftsmanship. Somehow, Planned Obsolescence doesn't fit in with Quality Churchwares and Sacred Vessels.

It's your choice--is that what you want?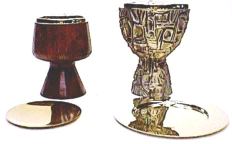 Above left #7025 Chalice and Paten

Solid red oak hand-turned wooden body, sealed and varnished in the old fashioned way. The cup has a turned over lip and is 24K gold plated, along with the mirror polished paten. The underside of the base has a solid disc insert, suitable for engraving to commemorate any occasion.

Above right #8002 Chalice and Paten

Hand cast silver oxidized base and body with an individually fitted solid brass and 24K gold plated turned lip cup. The mirror polished paten rests snuggly onto and fits into the cup for a secure positioning. The base underside has a solid insert suitable for engraving.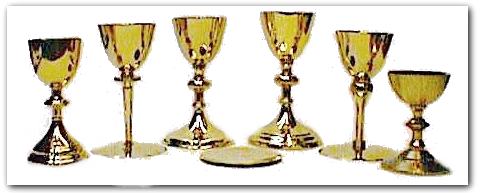 (L to R) #501 Chalice and Paten; #98 Chalice and Paten; #201
Chalice and Paten; #163 Chalice and Paten; #7125 Chalice and Paten; #1850 Chalice and Paten.
Below are two views of a Chalice Case.  It's traditional and has room inside for a Chalice up to 8" tall and 5" wide, and a Paten up to 5" . Just click on the images for a better view.